Are you having Google Adsense Limits issues? This short guide will assist you immensely. The frustration that comes with adsense limitation is second to none especially when you've had so much hope that nothing will happen to your account. I will be giving out few key secrets to solving this menace of Google adsense limits, kindly read till the end…Both specific  and general tips for resolving the ads limits issue will be explained in detailes.
There are a  number of reasons for Adsense ads not showing on your blog if you might ask. Quite honestly, Adsense impose ad serving limits on your blog when they observe that you've flouted an Adsense regulation probably by engaging in illegal activities including traffic purchase, use of clickbaits and generation of invalid clicks, traffic, etc.
For whatever reason you're experiencing Adsense ad limits, truth of the matter is that you're better off than bloggers with banned Adsense accounts. Therefore, you should reflect on the (illegal) activities that prompted your experience of ad serving limits and work towards avoiding such activities.
Your Adsense account could experience ad serving limits due to your own illegal activity or as a result of a mistake (possibly on the part of Adsense). Whichever way, you can rest assured that in this article, you'll find out the effective methods for resolving your Adsense limit issues.
Lets get down to the brass tacks;
1ST METHOD Ads Limit 50/50  Specific Solution
1 Ensure you Archive All Google Ads From  your AdSense Dashboard
2. Proceed to your website and remove All Ads Code From Website
3.Also Remove ads.txt Code From Website
4. Turn Off Auto Ads From AdSense
5. Wait Until 3 To 7 Day Ads Limit Will Be Removed. Once Done, you should be fine.
6. After following all the Steps Above and Ads Limit Disappear proceed to the next step below
---
Don't Create New Ads Code rather Just Activate  Auto Ads
2. After Few Days Then  proceed  to Create Ads Code and  Place on the site then host  back or restore the  website Back
Please Note:
This is not an absolute remedy, but  Just a Tip Which Works For Some And Didn't Work For Others, But I Will Advise If You Did This And The Ads Limit Keep Coming Back After Turning Auto Ads, Just Keep Repeating Same Process Again And Again Till Google Stop The Limit.
---
METHOD 2–General Tips for Resolving Adsense Ad Limits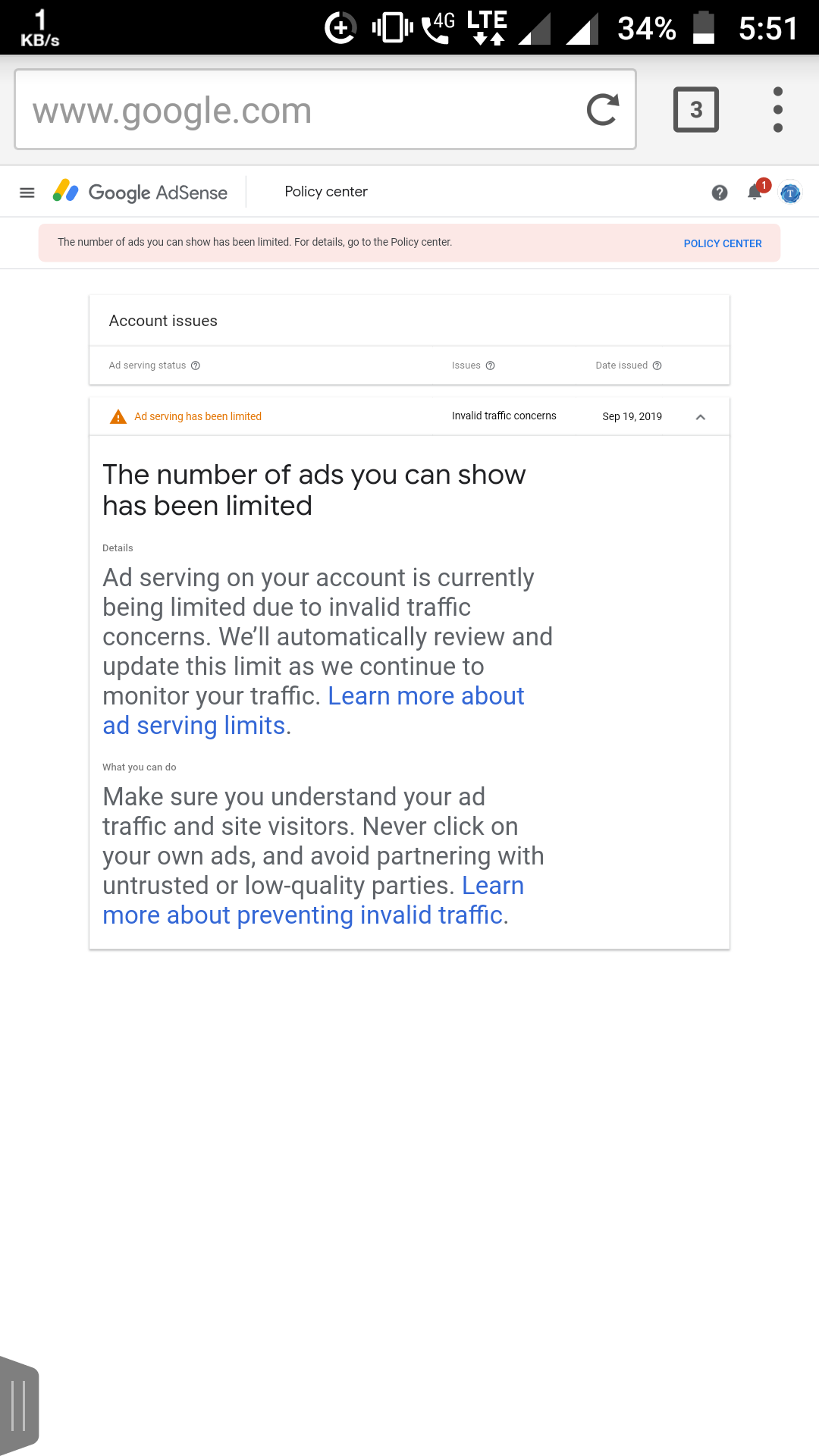 Do away with all channels of social traffic
Avoid publishing plagiarized posts at all costs
Cut ties with third-party ads such as PropellerAds, Media network, etc.
Keep a moderate number of Adsense ads on your blog page
If you're experiencing ad serving limits and feel it's as a result of a mistake, endeavour to contact Adsense Support and clearly state your observation
How You Can Resolve Google Adsense Limit (on Blogspot)
Basically, there are two effective methods for people blogging on Blogspot to resolve issues relating to Adsense ad serving limits. You can try out the first method by following the instructions below:
Login to your Google Adsense account
Explore the account dashboard
Create new ads units
Copy the codes, view your blog and paste the copied codes on it
Subsequently, deactivate auto ads codes (With this done, you should see Adsense ads turn up again on your blog in the next 12 hours)
If the method above doesn't work for resolving Adsense serving limits on your Blogspot blog, you should try the second method as explained below:
Go to your dashboard and strike all Adsense codes out of your blog
Deactivate your ads.txt
For the subsequent period of 7-14 days, endeavour to publish only quality posts on your blog, ensuring you do away with invalid traffic at all costs
When the 7-14 day period elapses, restore ads auto codes to your blog and reactivate your ads.txt (With this done, you should see Adsense ads come alive again on your Blogspot blog)
How You Can Resolve Google Adsense Limit (on WordPress)
There are two basic and proven methods by which you can rectify issues relating to Adsense serving limits on your WordPress blog. To try out the first method, follow the instructions below:
Strike out all Adsense codes from your blog
Deactivate all auto ads codes
For the subsequent 14-day period, endeavour to publish a good deal of quality posts on your blog
Place Google analytics tracking codes on your blog and within this 14-day period, ascertain that you're directing social media traffic from Facebook, WhatsApp and Telegram
With the above instructions carefully followed, you're pretty sure to solve your Adsense ad serving issue within 2 or 3 weeks
If you don't find the above method useful or effective, you may follow the second method (for resolving Adsense limits) on your WordPress blog:
Enter your dashboard and strike out both auto ads codes and non-auto ads codes from your blog
Explore your Adsense account and check the status of auto ads. You should disable auto ads if they are currently activated
Your domain will be redirected to google.com for the next 7 or 14 days, causing you to run out of some traffic
After 7 or 14 days (as recommended), disable the redirections and return your manual codes –with this done, Google Adsense ads should come alive again on your WordPress blog within 12 hours
Conclusion
We hope this article has helped you solve the glitch you're experiencing as regards Adsense ad limits. Meanwhile, it's advisable that you follow the general tips for resolving Adsense ad limits as outlined in this article. This way, you can be sure of avoiding future incidents of ad serving limits.
* ADS**
**Register Your Business Name With CAC and Get it in less than 2 weeks--
CLICK HERE
**
Grab My Ultimate List of Over 100+ Companies That Pays You Up To $2500 To Blog and Post Online (Grab your copy #3000 Only))-
CLICK HERE
***
Earn $1000 Monthly from Gramfree System
CLICK HERE
JOIN US @TELEGRAM TO RECEIVE UPDATE
CLICK HERE
------------------------------------------------------------------------------------