LOOKING TO STUDY IN GERMANY ON SCHOLARSHIPS? HERE ARE FEW OF THE BEST SCHOLARSHIPS IN GERMANY FOR NIGERIAN STUDENTS..LETS GET STARTED RIGHT AWAY!
Certainly, Germany is one of the European countries with a handful of scholarship opportunities for Nigerian students. While average Nigerian students willing to study in Europe might be discouraged by funding issues, a Germany-based scholarship could be the lifeline for such Nigerians to fulfill their dreams.
Based on our thorough findings, there are a couple of beneficial scholarships for Nigerian students (pursuing Master's, doctoral and postdoctoral degrees) to study in Germany. Therefore, here's a well-researched list of the top 10 scholarships in Germany for Nigerian students.
---
1.Erasmus
Regarded as a government-funded scholarship scheme, Erasmus provides foreign students with grants and coverage of living costs. Erasmus, which is managed by the European Commission, is touted as European Union's largest scholarship provider and it basically renders academic funding to foreigners willing to study in Europe.
Erasmus+ is the EU's programme to support education, training, youth and sport in Europe.
It has an estimated budget of €26.2 billion. This is nearly double the funding compared to its predecessor programme (2014-2020).
The 2021-2027 programme places a strong focus on social inclusion, the green and digital transitions, and promoting young people's participation in democratic life.
It supports priorities and activities set out in the European Education Area, Digital Education Action Plan and the European Skills Agenda. The programme also
supports the European Pillar of Social Rights
implements the EU Youth Strategy 2019-2027
develops the European dimension in sport
Opportunities
Erasmus+ offers mobility and cooperation opportunities in
higher education
vocational education and training
school education (including early childhood education and care)
adult education
youth
and sport
Detailed information on these opportunities, including eligibility criteria, is available in the Erasmus+ Programme Guide.
To Apply click here
2. Heinrich Boll Scholarship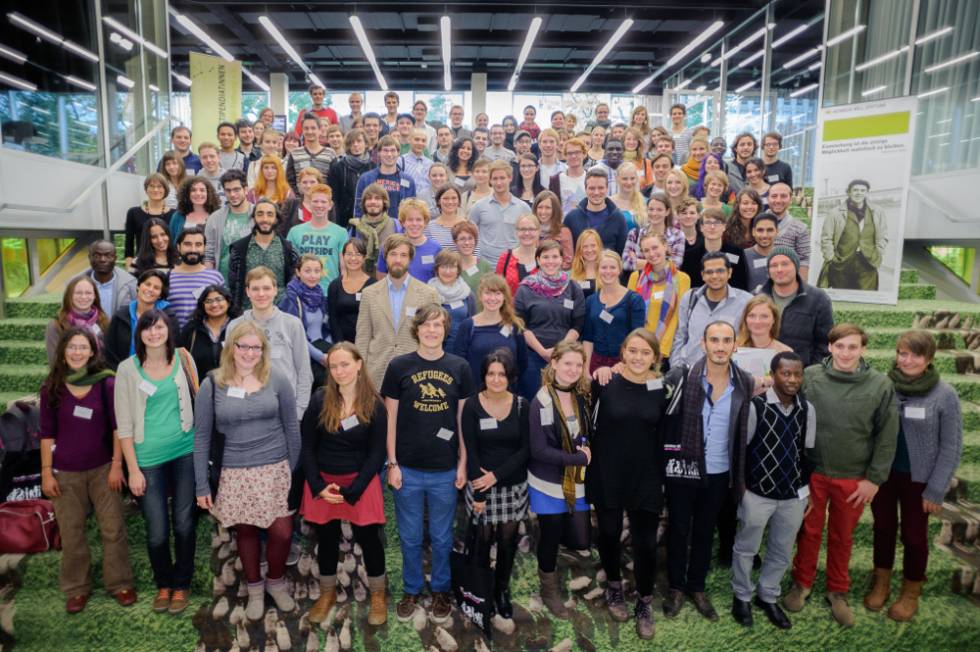 Under the auspices of a non-governmental organization named the Heinrich Boll Foundation, this scheme avails foreign students the chance to study in Germany on a scholarship basis. For applicants of this scheme to be considered for scholarships, they must be able to provide evidence of their admission to a specific university.
The Heinrich Böll Foundation grants scholarships to approximately 1,200 undergraduates, graduates, and doctoral students of all subjects and nationalities per year, who are pursuing their degree at universities, universities of applied sciences ('Fachhochschulen'), or universities of the arts ('Kunst-/Musikhochschulen').
We expect our scholarship recipients to have excellent academic records, to be socially and politically engaged, and to have an active interest in the basic values of the foundation: ecology and sustainability, democracy and human rights, self determination and justice.
Please note: We only accept online applications; written proof of German language proficiency (Minimum requirement: "Deutsche Sprachprüfung für den Hochschulzugang" Level DSH 2 or "TestDaF" Level B2) necessary
Application deadlines, focus groups, and access to ONLINE APPLICATION PORTAL
To Apply kindly click here
3.DAAD Scholarship
This is a government-funded scholarship scheme for people to study in Germany. Under the auspices of the German Exchange Academic Service, this (DAAD) scheme avails foreigners (inclusive of Nigerians) the chance to study in Germany in pursuit of both postgraduate and doctoral degrees across all disciplines.
With DAAD scholarships, International students can apply to numerous organisations for a scholarship, for example to the DAAD, to party-related foundations or business-affiliated institutions. You can find information on the various types of scholarships in the DAAD scholarship database, along with suitable offers.
To Apply kindly click here
4.Kurt Hansen Science Scholarship
If you're a Nigerian student studying a science-related discipline, this could be one of the suitable German scholarships for you. Under the auspices of the Bayer Foundation, the Kurt Hansen Science Scholarship offers scholarships to science students willing to become educators.
---
Open to: students studying to be educators in the field of science, from German-speaking countries wishing to study abroad and foreign applicants who want to study in Germany.
Scholarship: Support is generally intended to cover the cost of living, travel costs and incurred project costs
Application for a Kurt Hansen scholarship is open to students studying to be educators in the field of science. Key support areas include study projects, internships, summer courses, preparatory and supplementary study courses and theses. Assistance is also available for projects aimed at improving the training of science teachers.
Scholarship
Support is generally intended to cover the cost of living, travel costs and incurred project costs. It is offered for projects abroad by applicants such as internships, training courses, clinical work experience periods, semesters abroad, research projects, bachelor's, master's or doctoral thesis projects. Each applicant can request a specific amount of support by submitting a "cost plan", and the Board of  Trustees then comes to a decision based on this request.
The scholarship is paid out in installments according to an individually agreed payment plan. The support is provided up to 1 year.
Eligibility
The foundation places great emphasis on internationalism, and therefore grants scholarships exclusively to students from German-speaking countries wishing to study abroad and foreign applicants who want to study in Germany. Regular support for studies in applicants' home countries is not offered.
Applicants should be able to show good to very good final school marks as well as a particularly good intermediate diploma. Furthermore, a broad horizon and a high level of motivation and personal commitment are expected of all applicants – be it in a social, political or cultural field.
Application
The next application period for the Kurt Hansen Scholarships will be from June 1 until July 15, 2012-2022.
Application service
For more information about the scholarship please contact +49 (0) 214-30-41111 or e-mail:
scholarships@bayer-stiftungen.de (Monday to Friday).
Information source: unistudy.org.ua
To Apply kindly click here
5.Konrad-Adenauer-Stiftung Scholarships
This scholarship scheme, alternatively known as the KAS Scholarships, is exclusively for foreign students pursuing Master's and PhDs. Some of the vital requirements for this scholarship are being a BSc holder not more than 30 years of age, active involvement in voluntary work and proof of an above-average academic result.
6. Mawista Scholarship
This, of course, is the right Germany-based scholarship for nursing mothers (from Nigeria or other countries) to further their education. While Mawista Scholarship is also available to single mothers, it's obviously a great privilege for nursing mothers to relieve themselves of expenses (for both themselves and their kids) while studying in Germany.
The winner of the scholarship will receive a one-off payment worth 3000.- Euro. That way, you will have more time to take care of your child.
You can easily apply. Complete the application form and tell us why you think you are entitled to receive the funding.
To Apply kindly click here
7.Humboldt Research Fellowships for Postdoctoral Researchers
Regarded as another non-governmental initiative, this scholarship scheme is targeted at postdoctoral students from any country of the world. Meanwhile, it's one of the all-inclusive postdoctoral scholarships as it's available to scientists and scholars in any field of study.
To Apply for this scholarship kindly click here
Humboldt Research Fellowship for postdocs and experienced scientists
The Humboldt Research Fellowship for researchers from all nations and subject areas: We support you – postdocs and experienced scientists – in your research projects in Germany.
With the Humboldt Research Fellowship, the Alexander von Humboldt Foundation supports above-average qualified researchers from all over the world. As a scholarship holder, you can benefit from the individual support provided by the Humboldt Foundation and our diverse support services.
Researchers from developing and emerging countries whose research is highly relevant for the further development of their country should apply for the Georg Forster Research Fellowship .
what we offer you
The Humboldt Research Fellowship enables you to carry out your personal research project at various stages of your career – in cooperation with hosts from a research institution of your choice in Germany. The hosts can apply for a research grant.
Postdocs
Use the research funding in Germany to successfully start your scientific career. With the Humboldt Research Fellowship for Postdocs, you can carry out your research project in Germany. The monthly grant is 2,670 euros. It can be applied for for a period between 6 and 24 months.
Experienced scientists
Even if you have made further progress in your academic career, research funding in Germany is still open to you. With the Humboldt Research Fellowship for Experienced Scientists, you can carry out your research project in Germany. The monthly grant is 3,170 euros. It can be applied for for a period between 6 and 18 months and can be divided into up to three stays within three years.
Framework
In addition to the amount of the scholarship, you will receive personal support during your funding period. You can then determine the start of your scholarship very flexibly. You – and your spouse too – can attend an intensive language course in the run-up to your research scholarship.
Further financial support – family allowances for children and spouses, allowances for comprehensive health insurance, travel allowances, etc. – is possible.
Alumni programs
We'll stay in touch even after your research stay. With our alumni funding measures, we flexibly support the individual life paths and careers of all Humboldtians and their collaborations with one another. A return grant or later, renewed stays in Germany are also possible.
You meet these criteria
The Humboldt Research Fellowship is aimed at researchers with a doctorate and above-average qualifications from all over the world – regardless of their field of study.
Postdocs
Completion of your doctorate – or a comparable academic degree such as Ph.D., C.Sc. or similar – was it not more than four years ago that the application was received? Or do you complete your dissertation in a maximum of six months and can already present the results in writing? You have also already published scientifically in journals and publishers that are refereed according to international standards? Then apply for the Humboldt Research Fellowship for Postdocs if you also meet the criteria formulated under "General Requirements".
Experienced scientists
Completion of your doctorate – or a comparable academic degree such as Ph.D., C.Sc. or similar – was no more than twelve years ago when the application was received? An extensive list of scientific publications in journals and publishers refereed according to international standards proves your independent, scientific profile? Then apply for the Humboldt Research Fellowship for Experienced Scientists if you also meet the conditions formulated under "General Requirements".
If a doctorate is not possible or unusual in your subject or country of origin, you can even apply up to 16 years after completing your master's or diploma degree if you have published a publication corresponding to your career level.
general requirements
In order to successfully apply for the Humboldt Research Fellowship, you should meet the following additional criteria:
visit
Research place confirmation / statement
Reference report
linguistic proficiency

 
8.Deutschland Stipendium
This is a scholarship scheme that rewards its winners with the monthly fund of 300 euros. While Deutschland Stipendium is a merit-based scheme, it is a clear advantage for international students at German universities to overcome financial challenges. Meanwhile, the scheme requires such students to showcase their productive capabilities and doesn't consider students' nationality or personal income for selecting beneficiaries.
The Deutschlandstipendium supports highly talented students at all participating universities in Germany. The scholarship is awarded without consideration of personal or parent income and one's nationality is not material to award either. The scholarship funds do not count towards grants awarded under the Federal Training Assistance Act (BAföG). There are no social insurance contributions payable.
How and where can students apply?
The Deutschlandstipendium is awarded by the universities. Applicants must meet the requirements of the individual institutions. In addition to academic achievement, the criteria for selecting scholarship recipients include social commitment and personal achievements, such as a student overcoming challenges or obstacles in his or her social or family background.
How long do students receive funding?
Funding is normally granted for at least two semesters but may be provided for a maximum time which covers the standard period of study. At intervals of two semesters the university reviews whether the scholarship holder still meets the award criteria and whether private funding will continue to be available.
What else is in store?
More and more institutions of higher education and private sponsors are offering additional non-financial support in connection with the Deutschlandstipendium. Mentoring programmes, networking events and internships allow scholarship holders to establish valuable contacts to businesses and gain insight into work life.
Further information
To find out which institutions of higher education in Germany offer the Deutschlandstipendium, go to our interactive map of Germany.
To Apply kindly click here
9.The Helmholtz Association
Whether they are Nigerians or non-Nigerians, students pursuing doctoral and postdoctoral degrees are at liberty of enjoying this scheme which enables them to enroll at the German Helmholtz centre and undertake well-funded research.
To Apply click here
10. DRD Scholarships for Sub-Saharan Africans
This is a German university funded scheme for Sub-Saharan African students to freely enroll at Buckom's Ruhr-University for degrees in Development Studies, Development Management and Public Administration. While this scheme is pronounced as a merit-based scholarship, it is targeted only at Nigeria and other Sub-Saharan African countries.
To Apply kindly click here
DRD-SA
Masters/PhD Degree
Deadline: 20 June 2021 (annual)
Study in:  South Africa/Germany
Course starts Jan-May 2022
Brief description: 
The DRD offers a limited number of DAAD merit scholarships per year for applicants from Sub-Saharan African countries with an excellent academic record, to pursue development-related Masters and PhD studies.
Host Institution(s):
University of the Western Cape, South Africa/Ruhr-Univeristy Bochum, Germany
Field of study:
Scholarships are available for full-time students of:
• MA in Development Studies
• Master in Public Administration
• the different PhD options at the centre (PhD UWC)
Number of Awards:
Limited
Target group:
The scholarships are intended for nationals of Sub-saharan African countries.
Scholarship value/inclusions:
Scholarships include monthly allowances of 650 Euro plus travel allowances for Master candidates and 900 Euro plus travel allowances for PhD candidates. Tuition and registration fees are covered by the Scholarship Programme.
Eligibility:
Scholarship applicants are advised to carefully read about the specific entry requirements and course application procedure of the programme of their choice. The information is available from the respective programmes sections. In addition to programme requirements, all applicants have to meet the following requirements:
• Applicants should be from Sub-Sahara Africa
• Applicants should have an outstanding academic record – at least 70% average for your last degree
• The study must have been completed at an internationally recognised university
• The previous degree should have been an academic discipline which is related to Developement Studies
• South African students are required to have an honours degree in order to be admitted to a Masters degree course. Ohter students need the equivalent of a 4 year undergraduate degree.
• Applicants must provide evidence of proficiency in English, both written and spoken. This can be TOEFL test or a similar standard test or a letter from an academic institution
• Work and/or voluntary experience in your field of interest would be a recommendation
• There is no formal age restriction, but applicants should apply within three years of completing their previous degree, unless they have a good reason for having been academically inactive for a period
• Women are encouraged to apply
• South African students are encouraged to apply
• Applicants must be able to study fulltime at the UWC for the required period.
Application instructions:
The information on "How to apply" for the Master in Development Studies, the Master in Public Administration and the respective PhD options can be found in the respective "How to apply" sections of each programme. Applications can only be submitted by using the online application form, which is as well available in the respective "How to apply" sections. Applications via hardcopy or email are not eligible.  The deadline is 20 June 2021.
It is important to  visit the official website to access the electronic application form and for detailed information on how to apply for this scholarship.
Website:
Official Scholarship Website:  http://www.cdr-sa.org/
---
Conclusion
We hope this article has provided you with valuable information about German scholarships for Nigerian students. If you're interested in any of the listed scholarship schemes, do well to visit the scheme's dedicated website for further enquiries.
__________________________________________________________________________
>COPYRIGHT WARNING!!
Contents on this website should not be Copied,Republished, Reproduced and/or Redistributed either in whole or in part without proper/Adequate permission or acknowledgment. All contents are DMCA Protected. Defaulters will face the penalty immediately if discovered by reporting to Google!
If you own this content & believe your copyright was violated or infringed, please contact us at [editor@mitrobe.com] to file a complaint and we will take necessary actions immediately.